Our mission is to unite, inspire, educate, and entertain as a voice of the LGBTQA community.
Phoenix Metropolitan Men's Chorus
2 weeks ago
More Than Bars
Please join us for a night of fun! All family and friends are welcome and encouraged to come! We want everyone in the community to be able to have fun while contributing to a great cause and their own wellbeing.
DC? MARVEL? Come support your allegiance! Wear your favorite comic book character! :) Best Dressed winner announced and given a prize at the end of the night!
**Having at least 30 people attend helps pay for our LGBT Safe Space each month! So invite your friends!**
To help us make this a fundraiser, we ask for:
$10 for Your Bowling (normally $20!)
$10 for Your Dinner/Drinks (no need to eat beforehand!)
$10 donation to support More Than Bars (show us some love!)
What's included in the price?
-CityScape Garage Parking (2 hours)
-Bowling and Shoe Rental ($20 value)
-Games (Cornhole, Giant Jenga, Giant Connect Four)
-A $10 Credit Toward ANY Food/Drinks For the Night
-Pool Tables to Play
NEW PRICING OPTIONS:
Even if you're tight on cash, it's important for us that our community can still come! Here's how you can save some dough:
-Bring A Friend! If you bring a friend, you each get $5 off.
-Pay in Advance (until 7/9). If you do, just pay $25!
-Do BOTH! Save $10 by bringing a friend and paying ahead!
-Not into bowling, but still want to come and support? Let's talk and make it work :) <3
You can pay in advance through Venmo:
@MoreThanBars
, squareup.com/store/morethanbars, or you can pay at the door cash/credit card.
Our events are open to everyone: ALL genders and ALL sexualities! If it interests you, then come! ♥
Donate here:
https://squareup.com/store/morethanbars
Learn more about our programs here:
https://www.morethanbars.org/programs
**More Than Bars, Inc. is a 501(c)(3) nonprofit organization. Donors can deduct contributions they make to our thriving community under IRC Section 170. We are here for the Community. We are here for you! Creating community to provide pride, safety, and empowerment is what we do. Just for you ♥
#MoreThanBars
2 weeks ago
Bingo - Saturday 7/7/2018 - 1:00pm - at Stacys at Melrose
#pmmchorus #stacysatmelrose #Bingo @stacysatmelrose
Get out of the HEAT.... https://t.co/JTzAo9on8F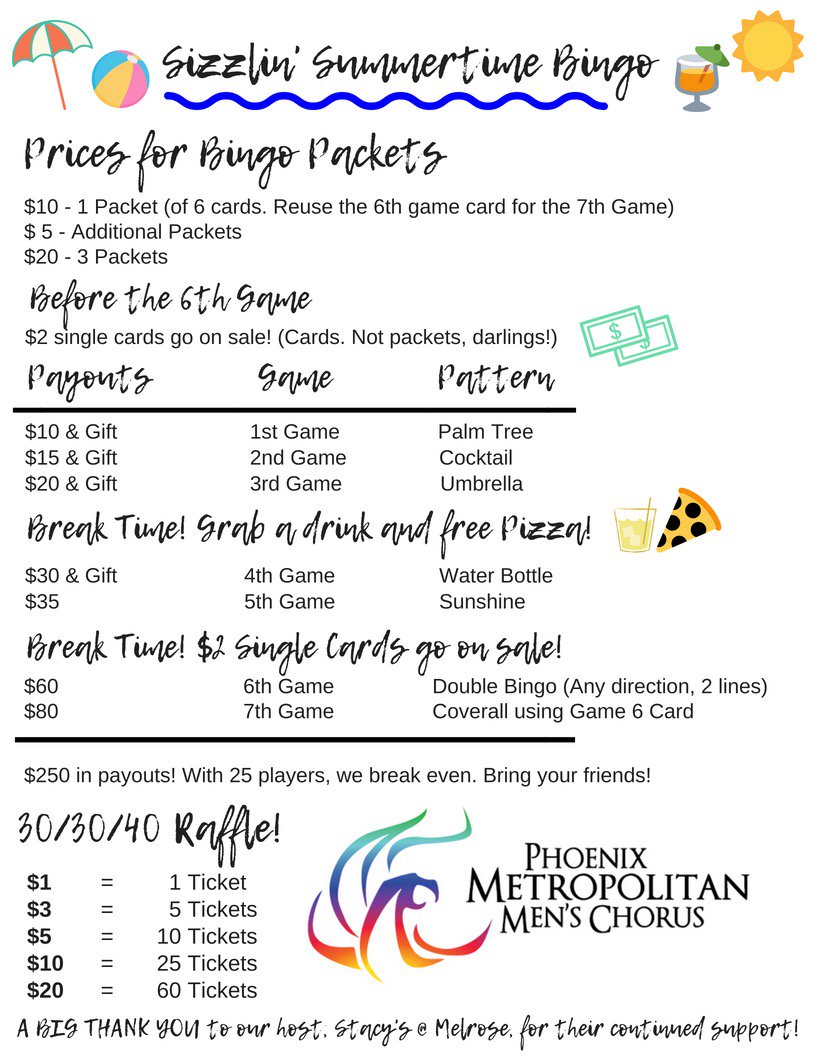 4 weeks ago
Our 2018-2019 Governance Council. We are proud these individuals will continue the legacy of strong leadership. Sing on brothers. Thank you. https://t.co/ChrgK1AWjD